News
01/12/2021
Dear Erasmus Incoming Students!
Welcome and thank you for choosing Poland for one of the most exciting Times in your academic career. Make yourself at home and have a look at an Academic Planner as an application that will certainly help you during your stay in our country. The planner suggests ways of spending your free time, recommends sites worth visiting and tells you how to deal with problems you might encounter. Get familiar with history of Poland, its traditions and culture. Experience our Polish hospitality, make lasting friendships and pick up some language as well!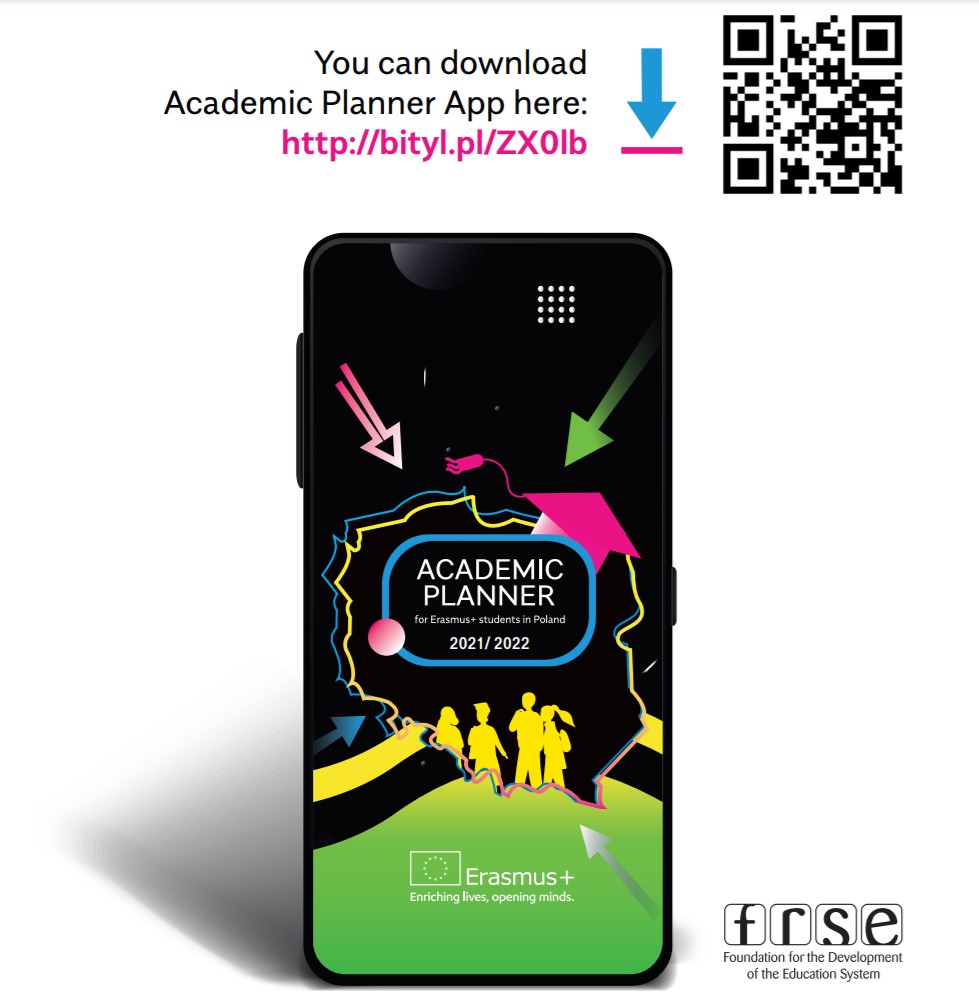 __________
27/02/2021
The use of helmets and scarves is prohibited from February 27 - the best protection are the masks
Information on the current restrictions regarding COVID-19 from the website www.gov.pl:
We make the most important decisions regarding a pandemic together with our public health specialists, professors, virologists and epidemiologists. The Medical Council has prepared recommendations on how to cover the mouth and nose best to protect us against infection.
According to the recommendations, we prohibit wearing helmets, scarves, headscarves, etc. They do not meet the safety criteria and do not protect us against infection as effectively as masks.
Rules in force until March 14
Covering the mouth and nose with a mask only - from February 27
Throughout Poland (with the exception of the Warmian-Masurian Voivodeship), we are extending the existing safety rules until March 14:
Hotels - available to everyone while maintaining the sanitary regime (50% of available rooms, meals only served in rooms, at guests' request. Hotel restaurants - closed).
Cinemas, theaters, operas and concert halls reopened - a maximum of 50% of the seats may be occupied during cultural events. Masks are obligatory. Prohibition of consumption.
Open pools. The water parks will still be closed.
Open slopes.
Open outdoor fields, courts, etc. - amateur outdoor sport resumed.
Gyms still closed.
Restaurants - as before - will be able to provide take-out and delivery meals.
Stay safe - follow the DDMA + W principle
An effective fight against the coronavirus is, above all, following the basic safety rules - DDMA + W, that is:
Distance
Disinfection
Mask
STOP COVID application - ProteGO Safe
Ventilation (airing) of rooms
Maintaining social distance, min. 1.5 m, frequent hand washing and disinfection as well as covering the mouth and nose are the basic activities that reduce the risk of coronavirus infection. It is also worth ventilating the rooms in which we stay, especially in workplaces or educational institutions.
The STOP COVID application - ProteGO Safe also supports the fight against the threat. It is completely safe, free and voluntary. The more people use it, the faster and more effectively we will reduce the pace and extent of the spread of the coronavirus.
06/08/2018

International Open Scientific Days 2018

During the 7th International Open Scientific Days, we once again welcomed lecturers from our partner universities - from Kiev, Lviv, Chernivtsi, from Athens and American state Oregon. At the opening ceremony the foreign guests greeted the public, expressed their interest and opinion about the event in TV interviews, conducted lectures on most various topics, and spent the evening discovering Bydgoszcz from a different perspective - by ship.
We are very happy with the visit of all our foreign guests, which promotes greatly our inter-institutional and international cooperation, improves our university's education and research.
Looking forward to seeing you again in 2019!
05/15/2018

Our students on internships abroad!



Students of English and Spanish Philology improve their language skills and acquire valuable experience on internships abroad participating in the Erasmus + Programme. Yulia Korolova teaches English to children in Turkey, where she went for 5 months. Solomiia Chikh decided to get her internship in Spain - and she does not regret it! She met a lot of interesting people, improved her Spanish proficiency and had a great time in Girona.

You also have the opportunity to take part in the Program. Contact the International Relations Office to learn more:

internationaloffice@kpsw.edu.pl
+48 797 328 407